2020 Healthcare Cybersecurity Priorities: Data Security, Ransomware and Patching | Threatpost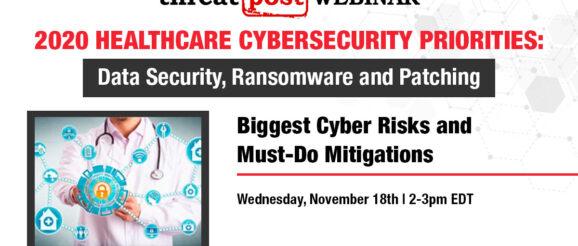 COVID-19's unprecedented impact on healthcare lay bare the gaping holes in hospital cybersecurity defenses in 2020. Register now and join Threatpost host Becky Bracken on Nov. 18 at 2 PM ET
as she explores cybersecurity priorities for hospitals and healthcare-related service providers.
This limited-engagement webinar features VIP healthcare security experts who answer your questions on:  
If you worry about poorly secured medical devices, uneven measures to lockdown patient data and a rapid push to telemedicine without adequate security – this webinar is for you.
This FREE live event, on Nov. 18, at 2 PM ET, is for security IT staff, healthcare CISOs, decision-makers or analysts interested in exploring the latest healthcare threats and mitigations during this unprecedented moment.

Interested in exploring Threatpost's archive of on-demand webinars? Please visit our Webinar Archives.