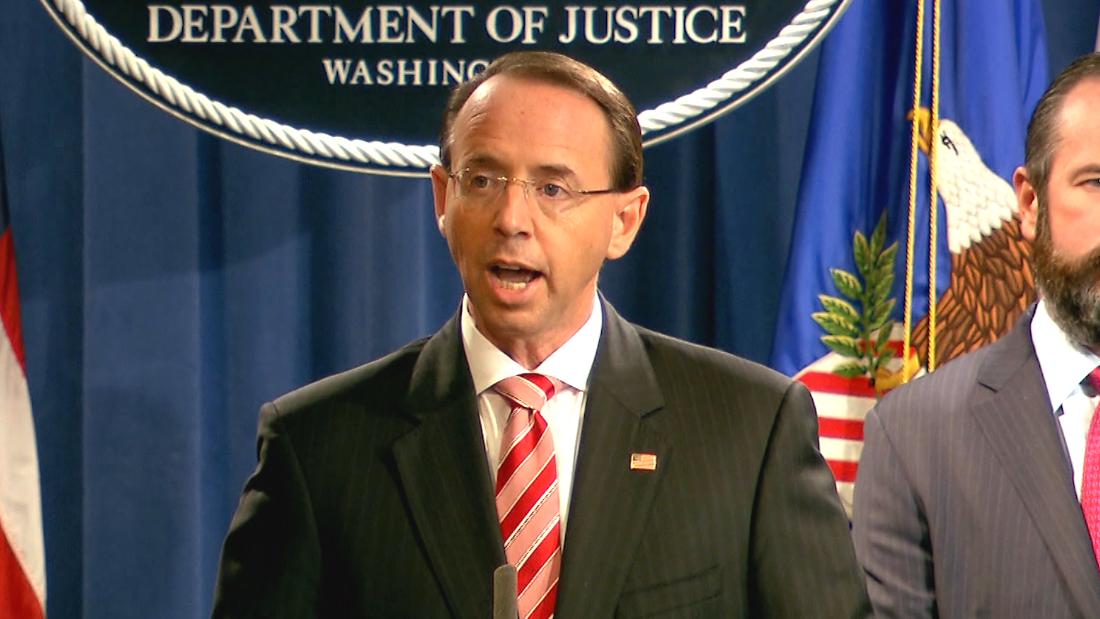 (CNN)The Justice Department's indictment of 12 Russian military intelligence agents on Friday was jaw-dropping in its scope and level of details into attempts to influence the 2016 US presidential election.
Here's what the indictment tells us:
The Russian government really, really wanted to beat Clinton
Friday's indictment shows the lengths the Russians allegedly went to in order to defeat Hillary Clinton, thereby aiding Donald Trump's campaign. Their actions throughout 2016 resulted in multiple criminal charges, from identity fraud to money laundering conspiracy.
To commit the alleged crimes, the Russians targeted more than 300 people affiliated with Clinton's campaign and Democratic political organizations, including the Clinton campaign chairman, John Podesta. Once inside the Democratic computers, they searched for keywords like "Hillary," (then-GOP candidate Ted) "Cruz," "Trump" and "Benghazi investigations" so they could steal the most damaging files. They wanted opposition research, campaign field operations and voter data, the indictment alleges.
At one point the hackers even wrote to an organization that appears to be Wikileaks to coordinate release of the stolen documents. The group, listed only as Organization 1, responded that they thought Trump had a slim, "no more than 25% chance" of winning against Clinton so they found that conflict between Democratic primary challenger Bernie Sanders and Clinton was more "interesting."
Fake names, stolen passwords and bitcoin
The Russian hackers' scheme to steal thousands of documents from the Democrats, as described in the indictment, used simple but effective tools to breach their targets many times and in multiple ways. From Twitter and Facebook to WordPress, the hackers used the online services most ingrained in American society for posts that spread their illicit information.
Even bitcoin, the electronic cash that's kept Silicon Valley abuzz, played a key role in the Russians' efforts to build their hacking infrastructure. "The use of bitcoin allowed the conspirators to avoid direct relationships with traditional financial institutions, allowing them to evade greater scrutiny of their identities and sources of funds," the indictment said.
The hacking tools included emails disguised as Google security alerts containing bogus links and malware deposited on servers. Some were even transferred to a computer the foreign intelligence group leased in Illinois. They stole passwords, tracked keystrokes, took screenshots and watched banking information, the indictment said.
And then, to spread the documents they collected, the Russians lied about their identity. At various times online, the conspirators claimed publicly they were American, then Romanian and had "totally no relation to the Russian government."
Many of the 12 Russian intelligence officers used fake names online, showing that anyone could be behind that "blablabla1234565" handle. One hacker even chose Americanized names like "Kate S. Milton," "James McMorgans" and "Karen W. Miller" to hide his foreign identity. DCLeaks.com, the domain operated by the hackers to post stolen documents, used the name "Carrie Feehan," who wrongly appeared to be a New Yorker.
Voters are among the victims
Among the hacking conspiracies described by prosecutors, one sticks out for how it attacked Americans regardless of their politics. The Russian military intelligence hackers snooped around online presences for state board of elections and county offices in Florida, Georgia and Iowa.
They ultimately stole personal information like names, addresses, partial social security numbers and drivers' license numbers for about 500,000 voters. The indictment doesn't specify which state suffered that data breach.
The court case may go nowhere
Like the criminal case against 13 Russians and three Russian companies that Robert Mueller's Office opened in February, don't expect these Russian spies-turned-hackers to show their faces before a judge. Not a single Russian person indicted by Mueller has shown up in a US court and they will likely continue to avoid international travel so they won't be apprehended.
Trump is set to meet Russian President Vladimir Putin on Monday, and some lawmakers are calling on the US President to demand Russia turn over the indicted individuals.
Only one Russian defendant so far, the company Concord Management and Consulting, sent US-based lawyers to plead not guilty to a charge from Mueller. That company has spent months been wrangling access to evidence in the case — after prosecutors accused them of trying to obtain the evidence as part of a foreign intelligence effort. The court has taken steps to thwart any sensitive national security leaks among the evidence collected.
But aside from the court battle, the charges in the social media case and Friday's hacking indictment serve one major purpose: To shine a light on Russian officials' allegedly criminal attempts to hurt American democracy.
There's more to come
The indictment's section on how the Russian hackers interacted with Americans names several people who received the stolen documents. There was the US congressional candidate who asked for the material, the state lobbyist who received stolen personal identifications of 2,000 Democratic donors and the journalist who took a release of documents related to the Black Lives Matter movement. There's also Wikileaks, the main pipeline through which the Russians released their stolen goods.
And then there's Roger Stone
Stone was an adviser to Trump during the campaign and has clearly been investigated by Mueller's team and the grand jury, after several of his business associates received requests for documents or to testify before the grand jury. He previously said he was "prepared" to be indicted but continues to deny any wrongdoing related to collusion. Messages with Guccifer 2.0 cited in the criminal complaint today match messages Stone previously released, yet he said they were benign.
Americans were not charged on Friday, nor were they named in the indictment.
Yet Rosenstein made it as clear as possible at his press conference on Friday that Mueller's work continues. "The special counsel's investigation is ongoing," he said.
Source
http://rss.cnn.com/~r/rss/cnn_topstories/~3/fjXoNKEt8Ns/index.html