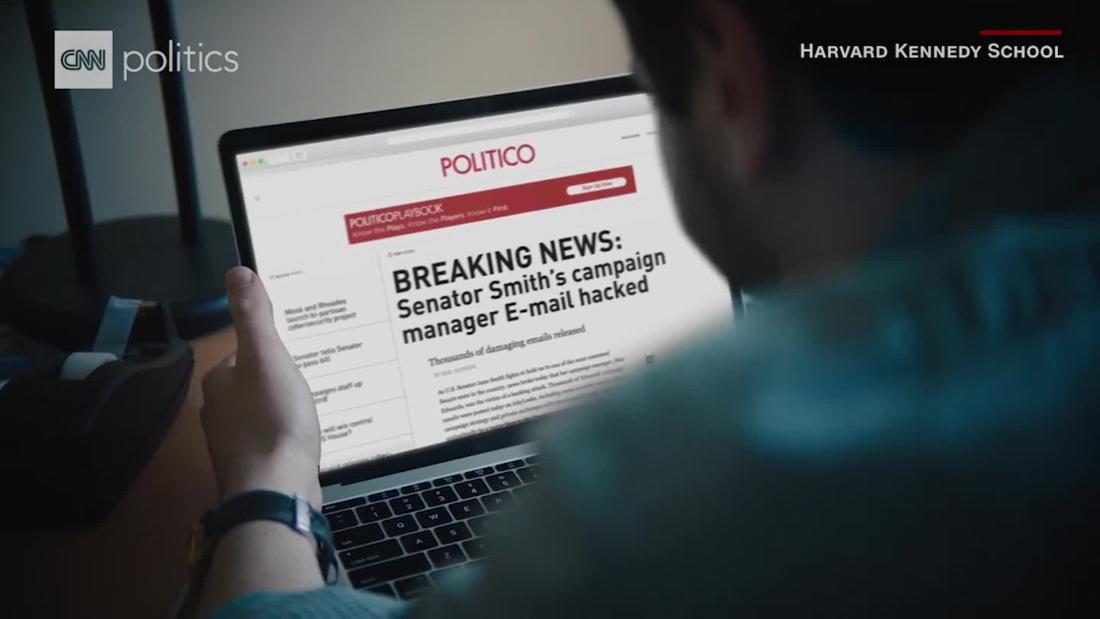 (CNN)A bipartisan pair of campaign veterans who want 2018 campaigns to take cybersecurity more seriously are releasing a new video depicting the moment a staffer on a fictional campaign realizes he has been hacked.
The video campaign is part of the Defending Digital Democracy Project (D3P), a wider initiative involving former Hillary Clinton campaign manager Robby Mook and Mitt Romney's 2012 campaign manager Matt Rhoades from the Harvard Kennedy School's Belfer Center for Science and International Affairs.
The video comes just days after a federal indictment laid out in detail how Clinton's presidential campaign, the Democratic National Committee and the Democratic Congressional Campaign Committee were hacked by Russian intelligence operatives in 2016.
In the three-minute digital video, a campaign manager for a fictional campaign has his emails hacked and published on a website called "IckyLeaks." He loses his job and his girlfriend as a result.
The video, which also features Deborah Plunkett, the National Security Agency's former director of information assurance, is aimed staffers at all levels of a campaign, Mook said. He hopes the video will be used by campaigns to "help communicate to staff their responsibility to follow cybersecurity protocol and what can happen when just one person drops the ball."
"I think that the indictment on Friday was a good moment for everybody to take a step back back and think how our own behaviors can potentially make us unwitting accomplices in foreign operations like this," Mook told CNN, adding, "that applies to both parties, applies to the media."
"With the midterm elections around the corner, Democrats and Republicans have plenty of disagreements and issues to debate. But they should all be united and committed to protecting our campaigns from foreign cyber attacks," Rhodes said.
The Defending Digital Democracy Project released a "Cybersecurity Campaign Playbook" last November. Among its suggestions was for campaigns to use encrypted messaging apps like Signal and Wickr.
Wickr, a San Francisco-based company, has told CNN it is working with both Republican and Democratic campaigns.
The Harvard campaign is also working to help local election officials improve their cyber security.
One of the major questions going into the midterm elections and beyond is how prepared campaigns and the US government are to deal with cyber threats after the events in 2016.
Sen. Mark Warner, the leading Democrat on the Senate Intelligence Committee, said he wasn't sure the US government was prepared for the threat Russia poses to the 2018 midterm elections.
"I think it's an embarrassment that this White House has not made election security a top priority and has not put the kind of attention and focus on it that we need," Warner said on CNN's State of the Union Sunday.
Meanwhile, social media companies whose platforms were used extensively by Russian government-linked groups in the lead up to the 2016 elections have sought clarity from the intelligence community in how they can work with the government to tackle the threat to the 2018 elections.
Source
http://rss.cnn.com/~r/rss/cnn_latest/~3/dA2OlsUX43g/index.html