Report: CISA Chief Expects White House to Fire Him | Threatpost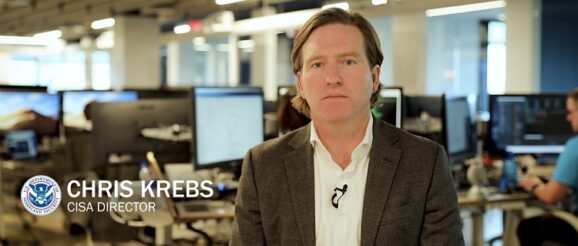 Top U.S. cybersecurity official Christopher Krebs said he expects to be fired by the Trump administration after he delivered a secure presidential election that didn't go in the current administration's favor.
Krebs, the first and current director of the Department of Homeland Security's (DHS's) Cybersecurity and Infrastructure Agency (CISA), ensured that the 2020 election was not tampered with by nation-state actors and remained secure for all voters, with the DHS calling it "the most secure in election history" on Thursday.
However, Krebs' efforts to debunk misinformation about the legitimacy of the election angered the president given the fact that his opponent and former Vice President Joe Biden has been projected the winner. President Trump has been insisting that widespread voter fraud occurred during the election and filed lawsuits in a number of states to challenge the results, despite lack of evidence.


Because of the CISA's support of a fair election process, the White House is expected to call for Krebs' resignation, according to a Reuters report, citing sources close to the CISA chief.
"[The] government statement about the election being secure should be unremarkable," tweeted Jonathan Swan, a reporter with news organization Axios. "But the reality is every person who had a hand in writing it will almost certainly face the wrath of President Trump and his inner circle in the White House."
Indeed, another CISA official—Krebs' assistant director, Bryan Ware—also has been a casualty of election fallout. He confirmed to Reuters that he was asked to resign earlier this week, a request with which he complied on Thursday.
Upon hearing the news, lawmakers and other observers took to Twitter and to praise the job Krebs has done as CISA director, nothing how he put aside partisanship to work for a common goal to protect U.S. cybersecurity infrastructure and the election process. Many also condemned the administration's decision to fire him.
"Chris Krebs has done a great job protecting our elections," tweeted Sen. Mark Warner (D-Va.). "He is one of the few people in this administration respected by everyone on both sides of the aisle. There is no possible justification to remove him from office. None."
Molly McKew, lead writer at Great Power and a writer and lecturer on Russian influence and information warfare, called the White House' decision to fire Krebs and Ware "pathetic" given the CISA's success in protecting the election process.
"US officials credited with significant successes in defending our elections from interference, cyberattacks, disinfo are being asked to resign/expect to be fired. Because of course POTUS would rather compromise national security than grow up," she tweeted.
"Krebs has been one of the top and most visible election security officials and has aggressively debunked misinformation in the aftermath," noted Patrick Howell O'Neill, a cyber reporter at MIT Technology Review, on Twitter. "Widely respected for his work this year."
Security experts also chimed in to laud Krebs for the work he's done since he took on the job as CISA director in June 2018 to protect federal cyber infrastructure and the public from cyber-attack.
Under Krebs, the CISA issued regular advisories about key vulnerabilities affecting ubiquitous software used by the administration, ordering departments and agencies to update when necessary to remain secure. The agency also issued warnings when the administration became aware of nation-state-sponsored cyberthreats not only to government infrastructure but also the public as well.
"Our nation's security relies in large part on highly qualified public sector cybersecurity professionals and Pentagon officials to do all within their power to keep this country safe and our elections fair," said Chloé Messdaghi, VP of Strategy, Point3 Security, in an email to Threatpost. "Christopher Krebs is among the best of the best of these. The United States needs the depth of experience or evenhandedness that he and his team have brought to our nation's cybersecurity."
Hackers Put Bullseye on Healthcare: On Nov. 18 at 2 p.m. EDT find out why hospitals are getting hammered by ransomware attacks in 2020. Save your spot for this FREE webinar on healthcare cybersecurity priorities and hear from leading security voices on how data security, ransomware and patching need to be a priority for every sector, and why. Join us Wed., Nov. 18, 2-3 p.m. EDT for this LIVE, limited-engagement webinar.