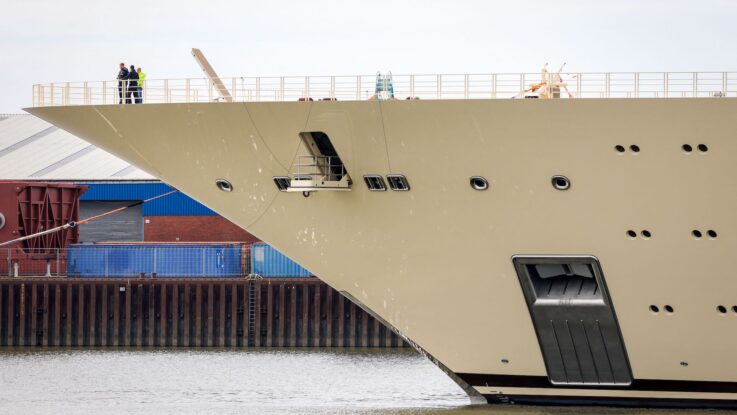 The IRS criminal investigative division is donating 15 licenses for the Chainalysis Reactor platform to a team of Ukrainian investigators as part of the ongoing effort to identify and unravel the financial networks that Russian oligarchs use to avoid international sanctions, the agency said Thursday.
The donation comes as personnel from the IRS Criminal Investigations unit and Chainalysis, a company that sells blockchain analysis and investigative tools, kick off a week of advanced trainings on the firm's platform for 20 Ukrainian investigators in Germany, following earlier virtual training for roughly 50 Ukrainian law enforcement officers.
"It is important for us to identify all Russian assets on the territory of Ukraine," said Eduard Fedorov, acting director of the Economic Security Bureau of Ukraine. "We resist the aggressor state not only on the battlefield, but also on the economic front. The international experience of conducting investigations using digital data and the study of algorithms for combating financial networks contributes to increasing the professionalism of our employees."
IRS-CI Chief Jim Lee said in a statement that the trainings help investigators "hone their digital investigative skills to trace the source of blockchain funds and unmask cryptocurrency transactions with cryptocurrency forensic tools." Michael Gronager, Chainalysis' CEO, said in a statement that "cryptocurrency is playing an unprecedented role in Ukraine in both good ways and bad," from the "facilitation of donations to ransomware attacks and sanction evasion."
The IRS-CI has 23 ongoing sanctions-related investigations, the agency said in a statement, as part of the U.S. government's Task Force KleptoCapture, launched roughly a week after the Russian invasion of Ukraine.
In November, Andrew Adams, the Department of Justice's head of the task force, said the government was beginning to shift its seizure focus from things such as private jets and yachts to the "facilitation networks, procurement networks, money-laundering networks," The Wall Street Journal reported at the time. By mid-April the U.S. government had seized roughly $500 million in assets under the authorities undergirding the task force.
The post IRS gives Ukraine tools to expose Russian oligarchs hiding riches in crypto exchanges appeared first on CyberScoop.